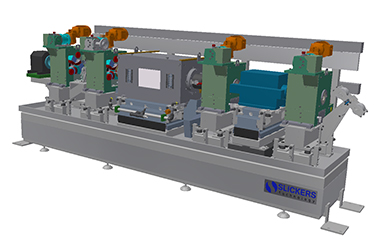 Layout of combined testing bench for tubes up to 90mm OD with UT rotary head (central) & ET magnetizing yoke and coil (blue right side).
Slickers Technology supplies Salzgitter Mannesmann Precision Mexico with state of the art UT solution
Slickers Technology has very recently won a contract for a UT testing bench to the booming Mexican automotive supplier market. Salzgitter Mannesmann Precision's subsidiary to Mexico (MPM) based in Guadalajara continues investment in order to keep up with increasing quality demands of the automotive industry.  The plant manufactures welded precision drawn tubes. The diameter range will soon be increased to tubes with up to 90mm outside diameter. The existing UT equipment will not be able to keep up with these increasing demands and therefore it was time for a new solution.

Plant director Gerardo Ramon pointed out that he is keen to strengthen his plant's role as high quality supplier for automotive components. MPM is doing more than 80% of business with domestic customers.

The new test bench will combine a state of the art rotating ultrasonic head for welded and precision drawn tubes with 18 to 90mm outside diameter with an eddy current test. Slickers Technology's CEO Helmut Ertner points out: "With our Rota 90Z 8K22 rotary head MPM will be able to keep up with future demands. The combined test bench is a good example how we satisfy our customers' needs for reliable quality control with fast and integrated Non-destructive testing solutions."

The new bench will not only allow to significantly increase the throughput (as it is designed to test up to 3 meters of tube per second), the RotaEcho-software of Slickers will provide a new dimension of ease of use and integration into the mill data system. Flexible software interfaces allow for an easy integration into the mill data management system. Batch data can be transferred directly to the UT machine and will be used for setting up most of the parameters automatically. The results will be available as report for customers as well as text based files to allow for customer based statistics and detailed quality control. Helmut Ertner is sure: "We will reach a new level of integration of the testing machine into the production process with these interfaces and together with the sophisticated PLC of the test bench."  

Scope of supply
Height adjustable test bench PRA90 with four central driving units for central tube guiding
Two automated sliding tables for UT and ET devices
UT rotary head Rota 90Z 8K22
UT electronics RotaEcho with 24 channels
Closed loop coupling water system
Two fold marking system
The tubes will be feed out of the straightening machine via a conveyor to the test station. Depending on the requirements the tubes are either controlled by eddy current testing or Ultrasonic testing or both methods. The testing devices are mounted on two automated sliding tables so that any equipment which is not needed can be moved out of the line.

The new rotary head spins with up to 3000 rpm and is equipped with 8 multi-element probes to allow to test with high precision for longitudinal and transverse defects as well as for wall thickness. The system is equipped with several additional sensors to monitor its machine parameters like rotational speed, bearing temperature, oil-air lubrication, water pressure and flow. This monitoring allows the PLC to shut down in case of errors or parts break down.

Remote service and support

The PLC as well as the UT electronics can be monitored, serviced and trouble shot via safe VPN-connections by Slickers engineers. A fast help and repair will be achieved based on such remote diagnostics. This is essential for MPM because of their strong business with automotive customers.