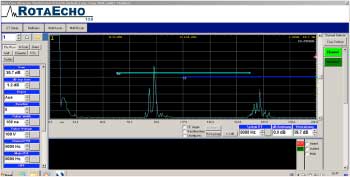 Screenshot of UT screens: The UT screen is the central tool to control all parameters
Slickers Technology is now Ultrasonic testing systems supplier
Slickers Technology a privately held company out of Geldern, Germany took a mayor step into becoming an Ultrasonic Testing systems supplier by introducing their new RotaEcho Electronic. The 45 people company has a history as UT rotary head manufacturer ranging back to 1972, when the first ROTA was launched. Since then more than 350 rotary heads have been delivered to the markets with various partners for the Ultrasonic part. The OD range of tested products spans from 6mm to 450mm.
Slickers manufactures complete UT testing lines with handling mechanics, conveyors, test benches, water systems, rotary mechanics, UT electronics, sorters, markers and PLC solutions and provides customer support out of Germany all over the world.
The RotaEcho electronics was designed specifically for the use with UT rotary heads. It includes some unique features which allow for short change over time as well as safe testing set-ups according to common standards. Some of those features are: automatic set-up procedures, powerful diagnostic tools, customizable report generation, modular and small design, remote troubleshooting and support. The state-of-the-art RotaEcho has built-in interfaces which allow for easy integration in existing testing line and handling of marking and sorting without PLC interference. The system is working fully parallel and in real time; up to 26 channels can be boxed into a 19-inch rack of 3RUs. Communication with the system is realized over Ethernet, thus the PC for setting parameters and writing reports can be placed everywhere in the customer's network. The software runs under Windows; it's workflow follows the typical set-up procedures for UT probes in a rotary.