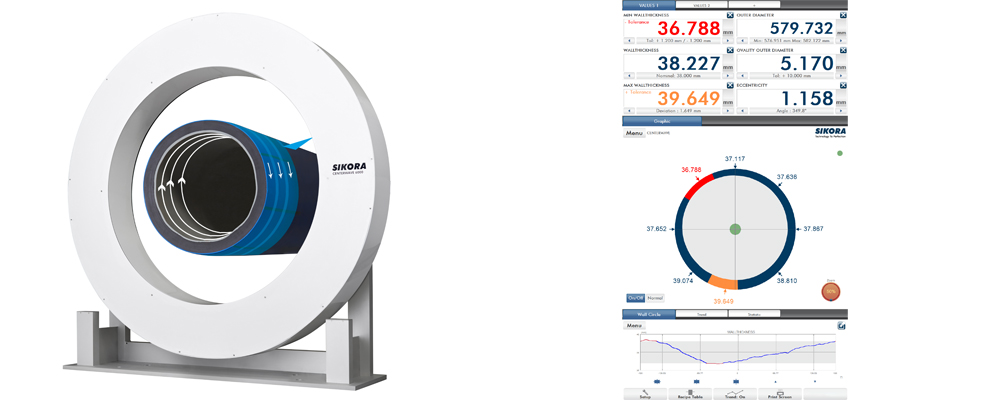 CENTERWAVE 6000 – now also for pipes up to 1,200 mm diameter
New CENTERWAVE 6000/1200 model available for process optimization and quality control of plastic pipes
SIKORA offers the CENTERWAVE 6000 for the measurement of wall thickness, inner profile and diameter as well as ovality of plastic pipes. Now a new model is available, which specifically covers diameter ranges from 250 to 1,200 mm [10 to 48"]. The CENTERWAVE 6000/1200 thus specifically meets the requirements of large pipe manufacturers.
The new model's compact design makes it easy to integrate into production and makes it particularly suitable for extrusion lines producing pipe diameters of up to 1,000 and 1,200 mm [39.4 and 48"]. In-line, the system supports immediate centering and reliable quality control. For the American market, the new model also covers the common 48'' IPS and DIPS standard.
Small pipes from 60 mm [2.3"] as well as large pipes up to 3,200 mm [126.0"] diameter – all models of the CENTERWAVE 6000 device series are characterized by their innovative measuring principle based on millimeter wave technology. Operation is intuitive at the push of a button. Once switched on, the operator immediately receives continuous and precise measured values – without presetting the product parameters and without any calibration.
The CENTERWAVE 6000 is equipped with a transceiver that rotates permanently. Due to the rotation speed and the line speed running parallel to it, the measurement takes place in the form of a helix structure in the direction of production, ensuring 100 % coverage. In this way, the wall thickness, diameter and inner profile are recorded without gaps both over the entire circumference and in the longitudinal direction of the pipe, and min. and max. values are reliably determined. With each rotation, the measuring spot overlaps. Thus, the inner contour of the pipe is precisely mapped and abnormalities such as sagging are immediately detected so that countermeasures can be initiated at an early stage.
In addition to measuring all relevant pipe parameters, the CENTERWAVE 6000 also offers automatic control of the extrusion line taking into account the standard deviation. This avoids over-consumption as far as possible and achieves a higher degree of automation of existing plants. This enables an amortization of significantly less than one year.
Did you know
According to the physical law "angle of incidence equals angle of exit", only the measured values that are at 90 degrees to the sensor are directly reflected. All other beams are deflected more strongly and no longer reach the sensor. In systems with static sensors, this results in gaps between the individual fixed measuring points, which – depending on the number of sensors installed – vary in size and thus prevent an exact determination of the minimum wall thickness. In systems with rotating sensors, on the other hand, the millimeter waves always strike the measured object at a 90 degree angle and are reflected directly. This creates the prerequisite for a gapless, 360-degree measurement over the entire pipe circumference.